WEDDINGS
Imagine your special day... Your husband is guiding you to the dance floor and the notes start to play of the perfect song you have chosen to represent your new life as a married couple.

Music is such an important part of every wedding reception. It sets the mood, creates the energy and 10 years from now when you hear that song play on the radio it will bring you right back to that special day.

Kustom Sounds Kauai has been providing great music for wedding receptions on Kauai for over 20 years, which gives us more experience than all other entertainment companies combined.

Modern Bride Magazine rated us #1 DJ Company in Hawaii 2 years in a row. The Knot voted Kustom Sounds Kauai Best Of Weddings Top Vendor Pick for 2010. We are the recommended mobile DJ Company for every major hotel, restaurant, caterer and wedding coordinator on the island. We are also charter members of the Kauai Wedding Professionals Association.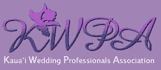 We offer professional djs/mcs that can guide your reception from start to finish. We want you to enjoy your reception so let us do the work while you sit back and enjoy your special day!

Contact us here to book your wedding!


Here are some reasons why brides and grooms choose Kustom Sounds Kauai:
Your guests can make requests from our incredible library of songs. Request cards are available.
Our DJs are professionally trained and dressed and are experienced radio, club and mobile DJs who can be your personal emcee if requested.
Our equipment is top-of-the-line professional DJ issued. Lighting, laser, bubble and smoke effects available. We design the sound and light show to fit your reception needs
We have 24 hour website, email and fax support and access
We are fully insured up to $2,000,000. Required by hotels, most restaurants and county parks
Top Songs
Click here for a list of top songs by decade, genre, or wedding event.




We offer the following services as well:

Hosted Karaoke/DJ package - includes over 300 popular songs, song books, confidence monitor, projector & video screen, 3 wireless mics, request pads, pens, fun lighting. Great for corporate events, rehearsal dinners, birthday parties, holiday events, family gatherings.
LED RGB Color washes up to 16 fixtures (over 250 colors) - NEW!
Custom Gobo light (your logo in lights) - NEW!
IPOD Set-Ups
Sound for wedding ceremony (includes CD player or ipod hookup, speakers, lav and handheld mics)
Additional speakers (delay speaker) for larger area coverage
LCD projector, 6X6 screen and DVD Player for video presentation
Mini-generator for isolated locations (provides remote power for sound and lighting)
Band Mixers (4 Channel)
15X15 Parquet teak wood dance floor rental (Includes delivery, set up and break down)
10X10 Portable Tents
Adjustable portable staging (4X8 sections)
Record a CD of your event
Cordless mic, lav mic, mic stands,
LIVE HAWAIIAN MUSIC for weddings and celebrations.
Event and program creation, ie. Games, contests, team building, etc.


REGISTERED MINISTERS IN THE STATE OF HAWAII - NEW!